Client's Testimonials
D Hand – 457 Business Sponsor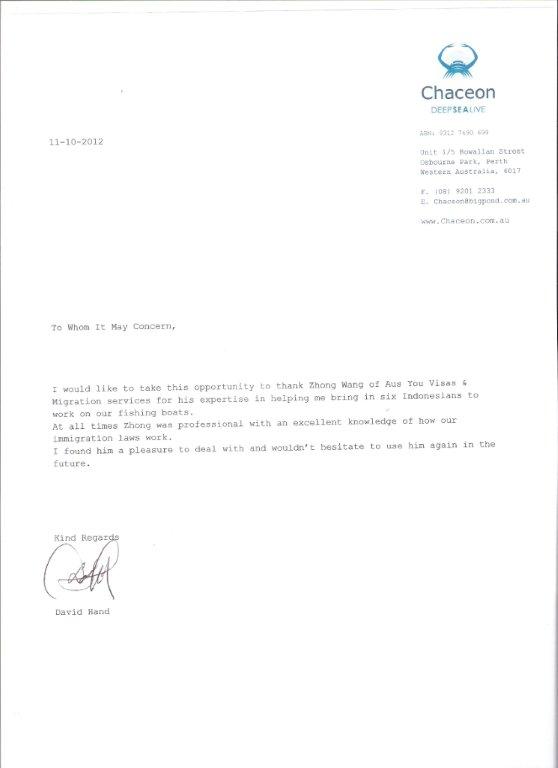 J Dorigo – 820/801 (Onshore Partner) Visa
Myself and my partner used the services of Aus You Visas to navigate the the complexities of the 820/801 partner visa process. Zhong, the director of Aus You, was helpful and professional at all stages of the process. We were granted the 820 visa today, so obviously very happy. Initially Zhong did seem a little pedantic, but this proved to be helpful in order to meet the requirements of the Australian Immigration department. I have no hesitation in recommending Aus You Visas for anyone considering using the services of an immigration agent. Money well spent!
S Longden – Visa Cancellation
I had a huge problem with my visa, things looked bleak. But Zhong's dedication and professionalism saved the day. Highly recommended.
K Grover – 187 (Regional Employer Sponsored) Visa
Zhong firstly is one of the most reliable agents that i went through, he explained all the requirements and proceudres to me in detail and was in constant touch with me for any new updates. very trustworthy person and an understanding person. he is well conversant with all the lawsa and regulations and hence leads us to the best possible path to choose. Zhong is not only an agent but a friend now and is always there to help. thanks Zhong (again)
D Barthakur – 190 (Stated Sponsored Skilled) Visa
Zhong Ming Wang is a registered migration agent in WA. He is not only a Tax agent but also a very sincere migration professional who dealt with my application (Permanenet Resident) matter with utter honesty and integrity. From day one he was clear with what he is dealing with. Not only that, he was constantly pursuing for every detailed paper work untill he is satisfied that the application will be a success. With his warm welcoming nature, he has the ability to make an individual comfortable with talks and guide him/her through the process of the case matter. This is not the first time I have used a migration professional but while dealing with Zhong, I could feel the difference from time to time, that I had not make a wrong choice.I strongly recommend Mr Zhong Wang and advise everyone out there to go ahead with Zhong's work and trust him for his dedication, honestly and sincerity. I never had any recommendation when I went to Zhong, with my application, but for everyone who is reading this section of his Linked in Profile, if you are looking for some one who knows what he is doing and can be trusted. I guess this is the guy you are looking for. PS:Zhong - All the very best for your future endeavors my man.Thank you once again.
L Winnie – 187 (Regional Employer Sponsored) Visa
I would strongly recommend Chong to anyone who is seeking for a reliable migration agent. Professionalism is the most essential factor to me in the service industry. and I believe I have made a right decision by using Chong as my sister's migration agent as he is very knowledgeable and experience in the migration field. Apart from the technical skill set, he also possesses a diligence and positive attitude throughout the process. I found Chong's info on Gumtree in March, remember back then, I was very disappointing and frustrating after 2 lodgments that I made being rejected. I have come to the point to admit that this is not a simple task that anyone would be able to handle just by going through the immigration website and have a read of the requirement and procedure. An extensive study is definitely required as migration law is so comprehensive. During our first meeting, Chong has discussed several options we could have considered and explained the pros and cons for each option. This is valuable to us because we can have a better understanding of where we stand and comparing which option can benefit us the most. Once we have finally selected the visa we want to apply, Chong just get on with in without our involvement. We still being informed of the status but he is dealing with the application solely. The visa that my sister is applying involve he current employer. But Chong would make contact to the employer directly after consent is obtained from the employer. In most case, a regional sponsor visa would required at least 5 months to be processed. However, Chong manage to supervise the whole application process and speed up the progress. This result in my sister manages to have her visa granted in 3 months. I am very happy with the result and million thanks would not be able to express my gratitude to Chong who make my sister finally become a PR.
V Sharma – 187 (Regional Employer Sponsored) Visa
I went to meet Zhong when i was looking for some information in regards to the visa purpose. I consulted 3 other migration agents before i met Zhong but i was not really impressed with the outcome. But With Zhong i was really satisfied within very first meeting as his Professionalism, Passion for his job and his skills & knowledge were really outstanding. In the very first meeting within 25 minutes I decided that Zhong will be the one to handle my Visa case. He started preparing my case, the thing which touched my heart was that when my first stage of visa was approved, Zhong was abroad and he sent me an email at midnight (his time) to tell that we were successful. It showed me that he was so concerned about my case unlike other Migration agent who do not even care for their clients once they have received their payment. Secondly he would answer my email within 30-45 minutes most likely and would answer my phone calls even after working hours which was really impressive unlike other Migration agents who would not reply emails or receive calls and clients have to keep on chasing them for answers; Thirdly Zhong was transparent with his approach and would discuss every move and gain my consent before taking any step. He use to explain every bit in details with more options available which was really professional.Overall Experience was outstanding, Zhong has made my entire journey from student visa to permanent visa so easy. i consider him more like a friend now than a migration Agent..............I would recommend every student who is looking for a reasonable and professional Migration Agent for their visa.........
M Atapattu – 489 (Regional Skilled) Visa
I met Mr.Zhong wang about one and half years ago when I was seeking a migration professional to deal with my visa matter. At the first meeting itself, he firmly said that he could handle our matter successfully after having gone through my qualifications and experience etc.. Before meeting him I met several migration professionals and all of them said there was no way for me to get any kind of visa to stay in Australia unless otherwise I obtain 8 in each band in IELTS. At a moment like that, Zhong's positive approach was really a great consolation for us. As he promised, I am delighted to mention that he helped us obtain our visa eventually. Zhong Wang is a registered migration agent in WA who can deliver results and also a very sincere migration professional who dealt with my application with utmost confidence. From the first day itself, he was very clear with what he was dealing with. Not only that, he was constantly behind us and updated us on the progress of the processing of our application. With his warm and pleasing personality, he has the ability to serve his clients with confidence and in a highly professional manner. I am glad that I met Zhong wang and I strongly recommend Mr Zhong Wang and advise anyone to go ahead with Zhong's work and trust him for his dedication. For everyone who is reading my comments here, if you are looking for someone who knows what he is doing and can be trusted. I strongly feel that this is the gentleman you are looking for.  Zhong ;I wish you all the very best and thank you once again for all the good work done for us.
H Namagowa – 485 (Graduate) Visa
Zhong is a detail orientated Managing Director at Aus You Visas who takes his work extremely professional and with high integrity. I was ensured exceptional results from the start. His ability to handle crisis's as they occur immediately and on time reflects the standard of work. I would most definitely work with him again and highly recommend anyone seeking Migration Services.
C Tay – 189 (Independent Skilled) Visa
Zhong is an expert in the migration field. He has helped my partner and I in attaining our Australian Permanent Residency within 2 months of the application date. His constant updates on what should be done and what has been done during the process allowed us to feel confident. His services are highly recommended.
S Sunder – 600 (Family Sponsored Tourist) Visa
I would like to thanks Zhong for his help sorting out a visa for my sister in law . Zhong has help make our dream come true and I would recommended him to any one who need advise or help with visa. you and your company have been most professional and helpful throughout this journey. thanks and best wishes for the future.
F Rivera – 461 (NZ Family Relationship) Visa
Contraté los servicios de Zhong durante la aplicación de mi visado. Durante todo el proceso ha demostrado una gran profesionalidad y exquisito trato siendo de gran ayuda en todo momento. Los resultados también han sido excelentes, por lo que recomiendo a Zhong a todo aquel que requiera los servicios de un buen agente de inmigración.
D Ferreira – 190 (WA State Sponsored) Visa
Hi Zhong,I am very happy that I appointed Zhong as my migration agent.  When I decided to stay in Australia during my last semester of university, I thought of appointing someone who had been through the same experience and I am glad to say that my judgement paid off. When I first contacted Zhong, he provided me with a good understanding of the different pathways to migrate.  I was also given frequent updates on migration laws which helped me be prepared against any eventuality. His advice was very helpful and any doubts or second guesses I had were always dispelled in a timely and efficient manner.  Without any doubt I would recommend Zhong to those people who want to migrate to Australia.  His honest approach and his empathy towards students who endure significant difficulties and hardships are two of the most important qualities a migration agent should have and Zhong has certainly these.
C Tirta- 187 (Regional Employer Sponsored) Visa
I would like to express my sincere gratitude to Zhong Wang, and hope this testimonial will serve as a recommendation to others. Zhong initially assisted and represented me 187 visa DRC application.  He always provided us with accurate, timely and honest information, and kept us informed about everything at all times. What I especially appreciated was that he is honest, result-oriented, structured and well-prepared. He always consulted with me about each step of the process. Surely it was not easy to help me with my case, but Zhong  did it and got me there.